PAD PAWS was founded in 2006 in the Powerhouse Arts District, located on the waterfront area of Jersey City, NJ.  However, our journey of rescuing began years prior in NYC after volunteering and doing TNR work for Ollie's Place, ASPCA and Mighty Mutts.  Some of the most difficult cases of rescuing and rehabilitation took place after disastrous events such as 911, Hurricane Katrina and Hurricane Sandy when animals of all types were injured, abandoned, sick and left helpless.  We were their voice, and their only hope of being saved.  These rewarding, yet difficult experiences, prepared us for concentrating on two areas during the gentrification process, Battery Park/NYC and the PAD area of Jersey City. We made it our mission to rescue, rehabilitate and place these four legged friends into a loving and caring home, and now specialize in abandonment, TNR and any animal who is injured or in danger.  Welcome to PAD PAWS, and thank you for your support!

Natalie Stiefvater has lived in NYC for almost 20 years. She started her rescue work at the age of 3 after attempting to bring home a baby rabbit from her Grandfather's ranch.  Her mom finally gave up and opened the door to "almost" anything with fur and four legs.  Needless to say, Natalie grew up with many pets.  As an adult, Natalie continued to rescue, but also volunteered at many shelters and rescue organizations across the country specializing in cats, dogs and horses.  She finds it incredibly rewarding to rescue animals who are homeless, injured or in danger. Natalie is a Holistic Nutritionist and Account Manager for a leading herbal supplement company, and also teaches yoga in her spare time.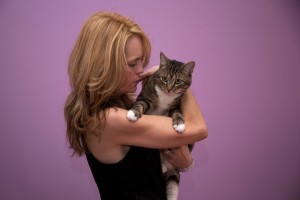 Laura Zaccardi moved from the suburbs of Maryland to the Powerhouse Arts District of Jersey City nearly 10 years ago. She grew up in a household that always had at least two cats.  Laura has been an Organizational Development Consultant focused on transformational change for over 20 years. She enjoys being a part of the team that feeds and cares for the outdoor colonies in the PAD and is happy to be a part of a non-profit that helps animals in need.
Denise Labowski is a crazy cat lady, foster failure, fundraiser, cat broker, you name it. Denise lives in downtown Jersey City on the waterfront where she has focused her rescue activities.  Although an environmental engineer by day, her real passion is these cats and hopes that one day she can open Jersey City's first cat café.  In the meantime you can find her simultaneously having a cocktail and telling anyone who will listen, "I have just the right cat for you!"